BlinkerBeacon Flashing Beacon

BlinkerBeacon | Enhancement warnings at pedestrian crossings, dangerous intersections and heavily trafficked areas.
BlinkerBeacon Flashing LED Beacons feature new top-of-pole mounting, 12" lenses and solar power capabilities that make this timeless traffic control device more effective than ever.
The BlinkerBeacon™ Flashing LED Beacon is available in single head or dual mount heads with various lens colors and bracket mounts that best fit your traffic control needs. Choose from various activation methods ranging from passive detection, user-actuated or 24/7 operation.
Features
Solar or AC power
Top-of-pole and side-of-pole control cabinet mounting options
BlinkerBeam® wireless communication simultaneously activates all systems
AutoBright™ circuitry automatically adjusts brightness levels, maintaining optimal LED output and extending battery life
Energy efficient watt solar panel options for various beacon arrangements
3 Year Warranty
Applications
School zone crossings
Mid-block crossings
Multi-lane uncontrolled crossings
High-speed pedestrian crossings
4-Way Stop intersections
Work zones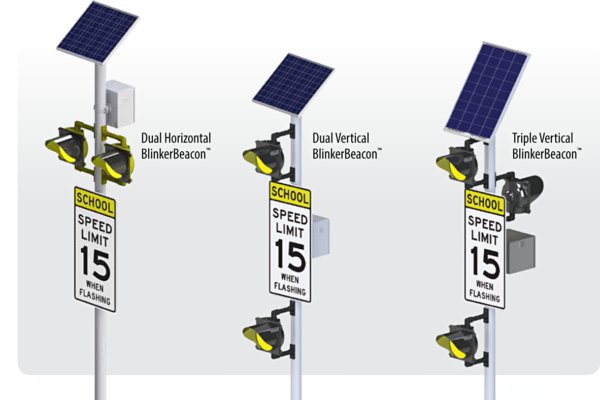 Energy efficient 13W solar panel(26-55W
for dual head models)
NEMA control box mounted separately from solar panel for quick service and maintenance
Aluminum mounting available with raw, yellow or black finish
Polycarbonate housing available in black and yellow (aluminum also available)
12″ round amber or red LED with 100,000 hours life expectancy