Breakaway Post Systems

Rigid objects close to a roadway can become deadly hazards when struck by a vehicle that strays off the pavement. Supports for road signs, frequently placed close to the roadway, are hazards if they are not designed, manufactured, and constructed to break away upon impact. Even relatively small and innocent looking road sign supports can be deadly if they are not designed to break away.
Lap-Splice™ U-Channel Breakaway System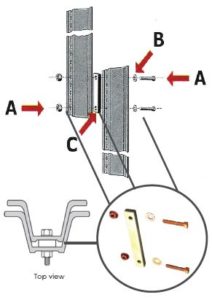 Breakaway Systems are designed to be used for rapid replaceability of damaged signs in all areas but are especially beneficial in high-impact areas. The Lap-Splice Breakaway System securely nests u-channel ground posts (standard 3'6") with top posts and forms a union which is as strong as the posts themselves. The Lap Splice spacer bars have holes drilled for 1st and 5th hole placement, thereby eliminating any possible user error. In just minutes, using either manual or power tools, the post system can easily be driven, from ground level, into even the hardest clay. Altogether your installation crew spends less time by the side of the road, reducing their exposure to traffic-related injury.
The simplest, easiest-to-use installation and most economical breakaway sign post system
A ground mounted breakaway system for any size
SP-80 Rib-Bak® U-Channel up to 4 lbs.
NCHRP 350 Approved
Slip-Safe™ for U-Channel Breakaway System                       
Durable, safe and reusable breakaway system is the ideal solution for small sign supports in high-impact areas
Slip-Safe™ is designed to be installed – and reinstalled – quickly and cost effectively
Handles sign panels up to 42 sq. ft. using three 4 lbs. /ft. Rib-Bak® posts within a 7 ft. span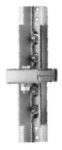 Slip-Safe™ Supreme U-Channel Breakaway System                      
360° breakaway system for mid-size sign supports
Can be installed – and reinstalled – quickly, easily and cost effectively because it does not require concrete support in strong soil conditions
Base post is a direct-drive unit composed of two Rib-Baks® bolted together, requiring only conventional power tools for installation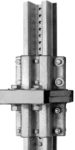 Ulti-Mate® Square Post Sign Support System                    
Approved by the FHWA
Reliable, economical and easy to install
A unique manufacturing method
The Ulti-Mate® tubing permits tubular sections of different sizes to telescope into the next larger size for convenient installations, maintenance and reuse
The square shape also provides torsional stability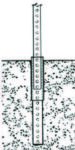 Slip-Mate® by Ulti-Mate®                   
An impact release sign post system
The lateral-release system is designed to work with the Ulti-Mate® Square Post Sign Support System and comes preassembled
The patent-pending design minimizes the deceleration of a vehicle by utilizing an innovative ball-bearing system
Eliminates need to auger hole in ground and concrete
No need for annual torquing of bolts
NCHRP 350 compliant
Utilizes standard drivable anchor