Camera Towers

SolarTech® Solar-Powered Portable Camera Towers Harness the power of the sun.
The SPCT-3000 portable camera towers are designed to provide a stable and adjustable base for outdoor security. This camera tower includes a Bosch Autodome camera. Easy to tow and set up, the SPCT-3000 Camera Tower provides reliable observation for a variety of needs:
Security
Border Control
Surveillance (law enforcement)
Traffic surveillance ( e.g., work zone)
Features:
Three stage Telescoping and Rotating Mast of galvanized steel with inter-stage roller bearing technology and variable mast deployment height. Mast can be raised to any height between 13.5' (min.) and 30' (max.) and is stable at any height.
Truly Solar Powered: Continuous, year-round, uninterrupted power source capable of providing a minimum of 950 watt-hours per day of electrical power (nominal 75 amp hours per day at 12.5 volts DC)
Portable: Tower system can be towed to any location for temporary surveillance
Heavy-Duty: All steel trailer frame construction
Sturdy polyethylene fenders and lockable battery compartment
Torsion-type axle for a smooth, stable ride
Four (4) 3,000 lb. swivel jacks for easy leveling and setup
Polyamide Epoxy primer for excellent rust and corrosion protection
Acrylic Urethane finish for excellent appearance and durability
Five Year Bumper-to-Bumper Warranty
Contact our Sales team today to discuss your project! Call 800.338.5685 or email > sales@gshpinc.com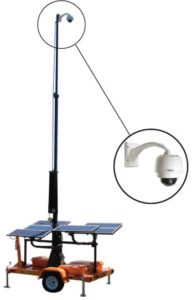 Camera Options:
Other cameras can be mounted on the mast for security or surveillance. Ask about options for customized mountings. SolarTech also makes a 30-foot tower (SPTT) without a camera.
Standard Camera: 
Bosch Autodome Camera
Day/night IP camera with 28x or 36x optical zoom (12x digital zoom).
Wide Dynamic Range (WDR), and Sodium Vapor White Balance mode that restores objects to their original color.
New Intelligent Tracking and alarm rules engine with on-board Intelligent Video Analytics (IVA).
Enhanced system flexibility with dual recording options (iSCSI, SD card).
Fully configurable quad streaming with individually configurable SD streams.
Multiple pre-configured user modes that allow users to select the camera configuration that is ideal for their applications.