Cold Patch & Ice Melt

Keeping Walkways and Roads Clear and Safe!
Permanent Cold Patch – High Performance, Year Round,
Applications: Utility Cuts • Railway Crossings • Dangerous Potholes • Ruts • Ruts • Wide Cracks • Parking Areas • Streets • Major Highways
GSHP, Inc.'s High Performance Permanent Cold Patch is a high quality, premixed, 100% asbestos free, asphalt "cold patch" compound which combines a carefully selected aggregate with a special bitumen formula. Its tenacious binding adhesive causes it to remain in the repaired area indefinitely. Even when applied to wet and frozen potholes, High Performance Cold Patch will compact with the back of a shovel and the surface may be opened to traffic immediately. Money will be saved in labor costs because workers will not be constantly repairing an area where other types of "cold patch" asphalt mix were used.
Where can High Performance Permanent Cold Patch be used? The beauty of this cold patch is that it can be used year round on both concrete and asphalt pavements. It has excellent bearing strength and is ideal for utility cuts, railway crossings and, of course, dangerous potholes, ruts, wide cracks and broken edges on parking areas, streets and major highways. Easy to apply, this cold patch makes repairs economical and permanent.
High Performance Permanent Cold Patch is always ready to use – no heating or mixing is necessary. It can be used in wet or dry conditions and in subzero to plus degree temperatures. It breathes under severe freeze/thaw conditions and it will heal itself. Stockpile High Performance Permanent Cold Patch outdoors, uncovered, for up to 12 months. Cold patch is available in 50 or 60 lb. plastic bags or in bulk. Skids may be broken. Store opened bags tightly sealed.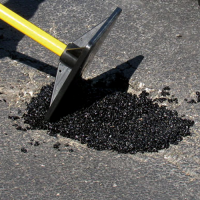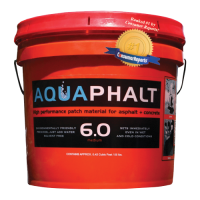 4.0 Fine – Used for repairs .5″-1″
6.0 Medium – Used for repairs 1″ plus
9.0 Coarse – Used for repairs 1.25″ plus
AquaPhalt®
Permanent repair for asphalt and concrete.
Applications:  Highways (asphalt or concrete), Runways/Taxiways/Aprons, Bridge Decks, Manhole repairs, Potholes, Utility Cuts, Parking Lots, Driveways, Tennis Courts, Pathways
While other cold patch products claim durability and immediate set-up, if you've ever stepped in a utility cut while crossing the street that resembled a rocky sludge, you know the other products remain pliable far beyond application.  From potholes to manholes and utility cuts to driveways and tennis courts, in the world of asphalt and concrete, we've learned that stable base materials plus enduring binders equal unlimited potential for all of our customers.
The first asphalt and concrete repair product with true staying-power, along with the knowledgeable sales and support staff to back it up, Aquaphalt is the revolutionary answer for fast, quality road repairs.
Premium Ice Melt and Snow Melt
Garden State Highway Products, Inc.'s Premium Ice and Snow Melt attacks ice and snow to minus 5 degrees Fahrenheit. It is fast acting, quickly penetrating through ice and snow. Apply Premium Ice and Snow Melt when precipitation begins to pavements, driveways, streets and walkways.
Apply 8 oz. or 1 cup of Premium Ice and Snow Melt per square yard. Amount may vary, however, depending on the depth of the ice and snow. Do not apply directly on grass or vegetation; and keep away from children and pets. Available in 50 lb. (22.7 kg) plastic bags; store opened bags tightly sealed.