Guardrail & Accessories

Guardrail  is an essential component to controlling and containing vehicle accidents. It is a critical element wherever human safety is a factor and wherever there is a risk of a vehicle going off of the roadway – whether it is along an interstate roadway, a highway, a secondary, road, a bridge, a median, an embankment, or in a parking lot. Guardrail creates a barrier that, often times, saves lives.
The most common and cost effective form of guardrail l is the W-Beam. It is an optimal choice for safety, strength and stability. The W-Beam consists of two "humps" and one "valley".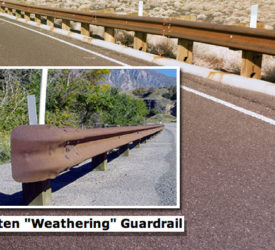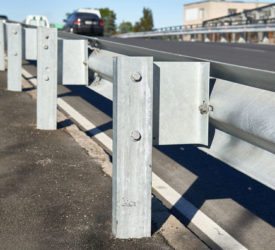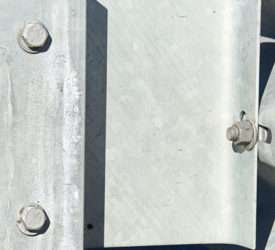 Humps are rises that face towards the traffic (convex surface) lane, while the valley (concave surface) points away from the traffic lane. The W-Beam guiderail measures 13′ 6 1/2″ in length, 12 1/4″ in height, and 3 1/4″ in depth.  The lay length of the 13′ 6 1/2″ guiderail is 12′ 6″.  This lay length represents the distance between the outermost post holes.  Thus, a 12′ 6″ panel has post holes centered at 6′ 3″ apart. The thickness of the W-Beam Guiderail is 12 gauge or roughly 1/8″ thick.  The W-Beam Guiderail can be purchased for both straight and curved roads.
Garden State Highway Products, Inc. offers several types of end treatments including the single buffer, double buffer, and flared end. Both the single and double buffer ends measure 16 1/4″ in height and 24″ in length, with a radius of 6 5/16″. A flared end measures 27 1/2″ in length, 15 3/8″ in height, and 9″ in depth. Typical installation consists of a panel of guardrail attached to posts that have been pounded into the ground. These posts are 4″ in width, either 6′ or 8′ in length, and 6″ in depth. The posts are spaced at intervals corresponding to the number of punches in the guardrail panel. Therefore, a 12′ 6″ piece of guardrail at 6′ 3″ post spacing requires 2-3 posts, depending on the need for a center post.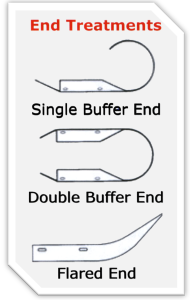 For additional information on offset blocks, rub rails, guardrail hardware, guardrail delineators and Corten Weathering Guardrail, please contact a Garden State Highway Products, Inc. sales representative.
Guardrail Reflectors
Illuminate invisible guardrails at night with bright reflective markers that provide clear delineation. Guardrail reflectors offer high visibility from great distances, thereby improving roadside safety.  The reflectors below are available with your choice of reflective sheeting on one or both sides.
Butterfly™ Guardrail Reflector
With a trapezoidal shape that makes it ideal for fit inside all "W-Beam" steel guardrail, butterflies are available in two styles: bolt-on and glue-on (bolt-on shown here).  These reflectors make guardrail highly visible for motorists in all weather conditions. Available in both plastic and steel versions, the bolt-on style is best suited for installation during initial guardrail construction. The glue-on style may be utilized at any time for maintenance or safety improvements.
FR Flex-Rail Guardrail Marker
The flex-rail markers offer bright daytime  and nighttime visibility by easily fitting over the top of steel "I-Beam" guardrail posts. The marker body is made of rigid PVC with co-extruded 80 durometer  polyurethane acting as a working hinge. Call a Garden State Highway Products, Inc. sales representative for sizes and availability.
Save