Guide Rail

Guide rail  is an essential component to controlling and containing vehicle accidents. It is a critical element wherever human safety is a factor and wherever there is a risk of a vehicle going off of the roadway – whether it is along an interstate roadway, a highway, a secondary, road, a bridge, a median, an embankment, or in a parking lot. Guide rail creates a barrier that, often times, saves lives.
The most common and cost effective form of guide rail l is the W-Beam. It is an optimal choice for safety, strength and stability. The W-Beam consists of two "humps" and one "valley".
Types of Guide Rail
W-Beam Steel Guide Rai
W-Beam Guide Rail comes in standard 12' 6" or 25' sections.
This is the most frequently used type of guide Rail on our nation's roadway system. It is a roll-formed product that is shaped out of steel coil into the shape of a "W," and typically galvanized to prevent corrosion and increase the product's life-cycle. W-Beam Guide Rail can be installed on steel strong posts or weak posts, using a variety of different post spacing options, depending on the specific situation (typically 6′ 3″ spacing.) Some states also specify wood posts for installation.
W-Beam Guide Rail can be ordered with the traditional galvanized (gray) coating, Corten (rustic brown) style, or poly coated in a variety of colors to match your specific aesthetic criteria.
Weathering Steel (Corten) Guide Rail
This guide Rail is the brown "rust" colored guide Rail often seen in parks or places that require an aesthetically pleasing guide Rail option.
Median Barrier Steel Guide Rail
This type of guide Rail is used within the median section of a roadway. It is essentially standard W-Beam guide Rail with a guide Rail block-out and panel on the backside to provide coverage on both sides of the guide Rail post.
Thrie-Beam Steel Guide Rail
This is a type of guide Rail that is essentially two pieces of W-Beam Guide Rail formed into one single shape. It is used in specific circumstances where additional coverage may be necessary. Certain States prefer this product for highway use, and it can frequently be seen at racetracks where lower vehicles could interact with the guide Rail posts.
Box Beam Guide Rail
This highway guide rail product is not as common as W-Beam Guide Rail, but certain States have a preference for it, including New York and Wyoming. It is a tubular product that is roll-formed from a steel coil into a 6"x6" or 6"x8" tube. Specific posts and brackets are necessary for Box Beam Guide Rail installation. It has a higher initial installation cost, but has reduced maintenance costs due to a higher durability.
Power Coated Guide Rail
Tired of the standard galvanized silver guide Rail? Make your project stand out with powder coated solutions of all colors! Enhance your branded image with colors matched to your specification.
Powder coated guide Rail is much more attractive and gains the attention you deserve. Great for gas stations, parks, apartment complexes, warehouses, golf courses, airports, green energy stations, and much more!
If standing out is not what you're looking for, have your guide Rail blend with the surroundings using a subtle green, brown, gray, or black. The options are endless. You pick it – we'll match it!
Garden State Highway Products, Inc. offers several types of end treatments including the single buffer, double buffer, and flared end. Both the single and double buffer ends measure 16 1/4″ in height and 24″ in length, with a radius of 6 5/16″. A flared end measures 27 1/2″ in length, 15 3/8″ in height, and 9″ in depth. Typical installation consists of a panel of guide rail attached to posts that have been pounded into the ground. These posts are 4″ in width, either 6′ or 8′ in length, and 6″ in depth. The posts are spaced at intervals corresponding to the number of punches in the guide rail panel. Therefore, a 12′ 6″ piece of guide rail at 6′ 3″ post spacing requires 2-3 posts, depending on the need for a center post.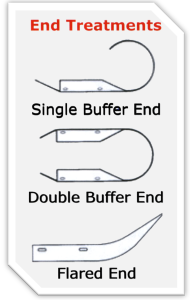 Guide Rail Reflectors and Delineators
Illuminate invisible guide rails at night with bright reflective markers that provide clear delineation. Guide rail reflectors offer high visibility from great distances, thereby improving roadside safety. Visit our line of guide rail and barrier mount reflectors.