Impact Attenuator Barrels/Barriers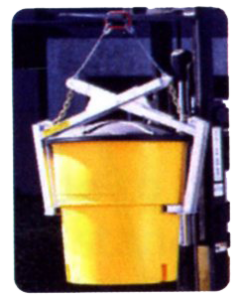 Traffix Devices "The Big Sandy" is a plastic barrier which is filled with sand to various weights.  Each barrel is marked with sand fill lines indicated on the outside of the unit.  The barrel is covered by a plastic lid and has a lifting flange for the purpose of attaching a lifting ring to move the barrels.
Three separate barrels are available.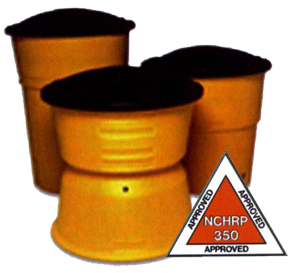 Sizes:
Large Barrel: 2100 lbs.
Medium Barrel: 1400 lbs.
Small Barrel: 200/400/700 lbs.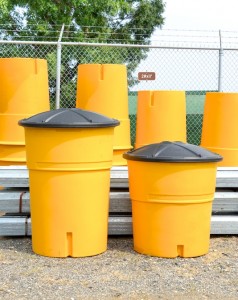 Plastic Safety Systems Crashgard universal sand barrel accommodates all weight requirements.  The Crashgard, without insert, holds 2100 or 1400 lbs. and, with insert, holds 200, 400 or 700 lbs.  The Crashgard utilizes UV stabilizers to maximize product life.  Reflective 4″ or 6″ sheeting is easily applied.
Crashgard Hoist available
Water Filled Barriers
Easy to transport and set-up, water filled barricades are ideal for traffic channeling and lane delineation, perimeter delineation (e.g., airport runways, security areas, etc.), crowd control and parking areas.  These barricades are compatible with lights, signs, stanchions and fences.

AR10x96
Sizes:

Height: 10″
Length: 96″
Width: 10″
Empty Weight: 28 lbs.
Full Weight: 260 lbs.
Optional pre-attached 72″x6″ orange/white high intensity prismatic reflective sheeting
Accommodates up to 2 specially designed CO-1 360° red flashing lights

CO-1
360° Red Light
Height: 5 1/2″
Width: 5 1/4″
Weight: 10.58 oz.
FLASHING rate 55 per minute
Polycarbonate lens material
Solar Panels: Polycrystalline

AR24x9
Height: 24″
Length: 96″
Width: 14″
Empty Weight: 37 lbs.
Full Weight: 785 lbs.
Optional pre-attached 72″x6″ orange/white high intensity prismatic reflective sheeting
Accommodates up to 2 specially designed CO-1 360° red flashing lights
MB42x72JSS
Height: 42″
Length: 72″
Width: 24″
Empty Weight: 100 lbs.
Full Weight: 1380 lbs.
Pre-molded attachment area for flashing lights
Optional stanchions can be utilized with snow fencing or barricade rail to create Type III barricades

MB42x96JSS
Height: 42″
Length: 96″
Width: 24″
Empty Weight: 200 lbs.
Full Weight: 2590 lbs.
Pre-molded attachment area for flashing lights
Optional stanchions can be utilized with snow fencing or barricade rail to create Type III barricades