Interstate Overhead Signs

Interstate Overhead Signs
Overhead signs keep you informed of where you are going.
Our new 140,000 square foot state-of-the-art facility is stocked with equipment, inventory and experienced personnel. We have been producing signs since 1987 which requires specialized knowledge. All interstate overhead signs are produced in accordance with state and or federal regulations.
We can handle your difficult sign needs as readily as your standard ones. We inventory a wide variety of typical road signs and can provide all appropriate posts, stands, delineators, or mounting hardware needed to complete your project.
Our sign specialists are also able to design and create custom signs tailored to your requirements. With our computer-aided system and other specialized graphic software, we can make any type of custom sign including custom road, parking, warning, security, and directional signs.
FHWA specified lettering sizes dictate the demountable or direct applied copy. The completed Interstate Overhead Sign is load on to a custom made trailer for deliver to the customer's site. Garden State Highway Products, Inc. can manufacture any Interstate Overhead Sign to order. Required certificates and material samples are available upon request. Blank aluminum panels, that have been chemically treated, are also available for purchase. We stock the fasteners and hardware needed for sign attachment.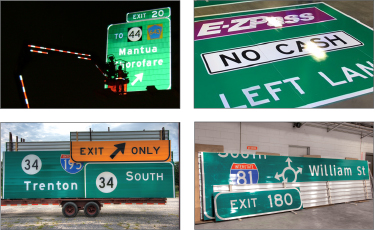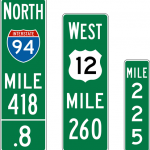 See hardware section for full line of hardware products for installation.