Interstate Overhead Signs

Interstate Overhead Signs keep you informed as to where you are going.
Garden State Highway Products, Inc.'s (GSHP, Inc.) new state-of-the-art facility is stocked with all the equipment, inventory and experienced personnel needed to fabricate interstate overhead signs in accordance with state and/or federal FHWA regulations.
We can manufacture any Interstate Overhead Sign to order. Whether using incremental flat sheets or extruded panels, direct apply or demountable copy, these guide sign panels are cleaned, sheeted and assembled to supplied specifications. The completed Interstate Overhead Sign is then loaded on to a custom-made trailer for delivery to the customer's site.
Required material certifications and samples are available upon request. Blank aluminum panels, that have been chemically treated, are available for purchase. We also stock the fasteners and hardware needed for sign attachment.
GSHP, Inc. also manufacturers Interstate Mileage Signs to state and federal FHWA regulations. As ever, these interstate signs further enhance what GSHP, Inc. is all about – "One Stop Shopping".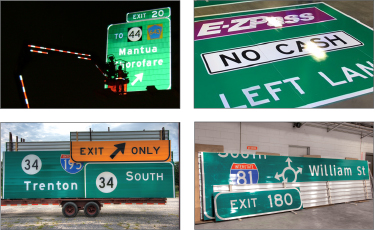 Pictured above are some of the Interstate Overhead Signs that GSHP, Inc.
has fabricated and shipped to customers.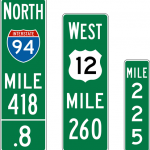 See hardware section for full line of hardware products for installation.