Light Towers

Allmand® and SolarTech® Gas-Powered Light Towers provide durability and performance you demand.
Garden State Highway Products, Inc. (GSHP, Inc.) offers light towers from two manufacturers with many features, long and efficient run-times, and lower risk deployment. These light towers are built with durability and performance. View our selection below. Contact our Sales Team today to discuss your project! Call 800.338.5685 or email sales@gshpinc.com.
SolarTech® Solar-Powered Portable

 Light Towers
Harness the power of the sun. 

The SPLT-3000 is a portable light tower designed to provide a stable and adjustable base for outdoor lighting. This light tower is perfect to illuminate parking lots, storage yards, special events or any application where permanent lighting is not available or possible. No generator means a quiet, clean lighting system with no gas or diesel fuel to maintain. Included is an 4 or 8-Lamp Array of LED fixtures on an easy to raise 30 foot mast. The lights are directionally adjustable to provide a customizable field of illumination. Easy to tow and set up, the SPLT-3000 Light Tower provides reliable lighting for a variety of needs.
Contact our Sales team today to discuss your project! Call 800.338.5685 or email > sales@gshpinc.com
SolarTech Solar-Powered Portable Light Tower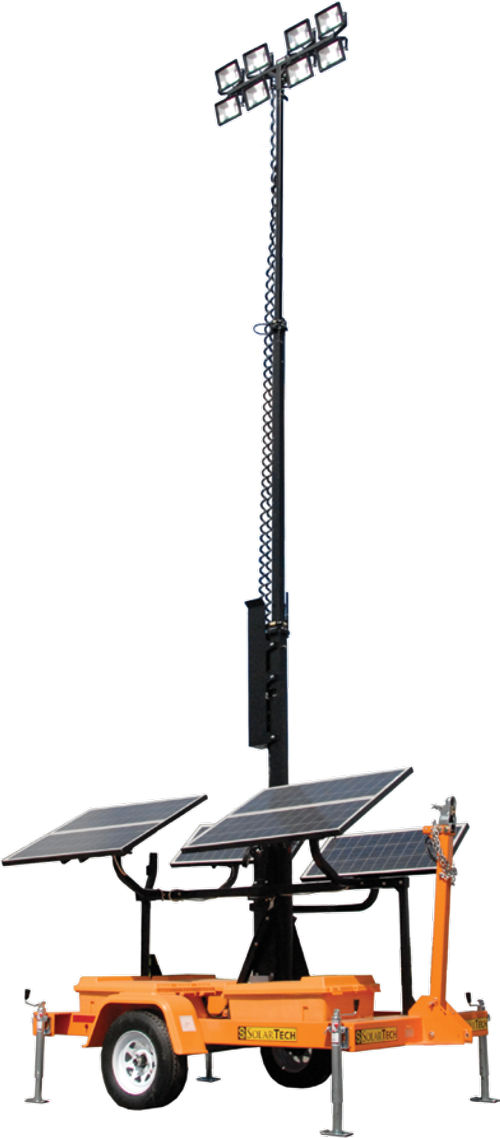 An ROI-driven solution, the Night-Lite™ V Series® is built with the efficiency, durability and performance you demand. It will run up to 155 hours between refueling (with LED's), and has a convenient fuel fill neck for quick refueling. Plus, it offers 542,000 total lumens from the four SHO-HD® light fixtures and minimized freight costs because up to twenty units fit easily on a flatbed trailer.
Key Features:
Three stage Telescoping and Rotating Mast of galvanized steel with inter-stage roller bearing technology and variable mast deployment height. Mast can be raised to any height between 13.5' (min.) and 30' (max.) and is stable at any height.
Truly Solar Powered: Continuous, year-round, uninterrupted power source capable of providing a minimum of 950 watt-hours per day of electrical power (nominal 75 amp hours per day at 12.5 volts DC)
Portable: Tower system can be towed to any location for temporary lighting
Heavy-Duty: All steel trailer frame construction
Sturdy polyethylene fenders and lockable battery compartment
Torsion-type axle for a smooth, stable ride
Four (4) 3,000 lb. swivel jacks for easy leveling and setup
Polyamide Epoxy primer for excellent rust and corrosion protection
Acrylic Urethane finish for excellent appearance and durability
Five Year Bumper-to-Bumper Warranty
ISO 9001:2008 Certified Design and Manufacturing – the ultimate in quality assurance.