Marking Paints & Stencils

Add the final touch to almost any painting project.
Whatever your traffic marking material needs, Garden State Highway Products, Inc. has the right product for your application — from rural roads to congested urban intersections, our marking paints and materials are carefully designed and manufactured to ensure optimal performance and safety.
Our pavement striping paints are available in water and oil base. Aerosol paints are available in a wide range of colors and our bulk paints are available in five-gallon to 250-gallon tote containers. GSHP paints are manufactured to the latest low VOC and environmental standards and are ideal for parking lots, streets and highways, airport runways, taxi ways and warehouse floors.
Striping & Stencils  
Packaged as 12 cans per case. Special colors sold in case quantities only.
The Quik-Mark™ Wheeler Hand Held Marking Wand
Helps apply inverted marking paints, quickly and efficiently
Made of durable, rugged plastic and lightweight steel
Comfortable pistol grip is made to help reduce finger

Spotter Hand-Held Wand
Made of durable, rugged plastic and lightweight steel
Comfortable pistol grip for easy handling and marking
Avoid paint or chalk on your fingers
12" in length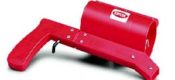 Cut from heavyweight (1/8″ thick) poly-vinyl, these stencils are more durable than plywood stencils, yet are lighter, easier to transport and resist warping
Dried paint flakes away from the vinyl surface, making cleanup very easy
Standard letter and number sizes are 4″, 6″, 8″, 10″, 12″, 18″, 24″, 36″, 48″, 72″ and 96″
96″ letters and numbers come in both 4″ and 6″ strokes (6" stroke special order and can not be returned)
Wide array of symbols available including straight and curved arrows, railroad crossing symbols, stop bars, fire hydrants, bike and ped xings, bike lane symbols, handicap symbols, sport kits, standard legends in different sizes (NO, PARKING, FIRE, LANE, etc.) – please inquire
Custom-made stencils are also available