Mast Arm Signs
Guiding motorist and keeping traffic flowing.
Whether on a foggy, rainy night, through a blinding snow storm or during a bright, beautiful day – larger, brighter overhead street name signs offer optimal visibility and enhanced safety.
Like other street name signs, mast arm signs are fabricated to order and to FHWA specifications. For maximum effectiveness, 18″ height by variable length with High Intensity Prismatic (HIP) or Diamond Grade Cubed (DG3) reflective sheeting is recommended.

Mast arm signs need brackets to attach them to the mast arm. Featured on here are brackets that Garden State Highway Products recommends using. The GS-OH-AD adjustable length, GS-OH-FX fixed length and GS-OH-OFS offset safety swing arm brackets all have 6063-T6 oil impregnated bronze bearings, stainless steel springs and hardware. Detailed specifications on these brackets are available on request.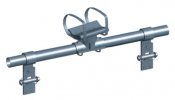 GS-OH-OFS
Offset Safety Swing Arm


GS-OH-ADJ
Adjustable Length