Pavement Markers
Short-Term Temporary Pavement Markers
These flexible raised pavement markers are easy to install and remove, saving you time, money and lives.
They provide superb positive guidance both day and night, in all kinds of weather.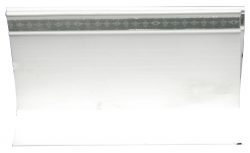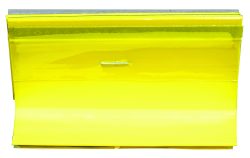 Temporary Road Markers
In an era of decreased budgets and focus on safety, TRPM chip seal markers provide an opportunity for both improving safety and reducing costs. Quick, simple placement reduces the time that your crew is exposed to traffic. TRPMs can be installed in only seconds by one worker with no special equipment, providing high profile delineation on freshly sealed roads until permanent markings can be applied. Holding the original lane line location eliminates the need to survey prior to restriping the roadway.
Quality is essential to the durability of our products. Our TRPMs are manufactured with virgin engineering resins and the best reflective tapes and adhesives in the industry. They are built tough to stand up to the high demands of maintenance work zones.
Key features of TRPMs:

Improves safety, provides effective lane line delineation
Polyurethane marker body for toughness and durability
Highly visible both day and night
Installation takes only seconds
Improves safety, reduces workers' exposure to traffic
Available in 3 styles: single cover, double cover, and double staple
High heat marker available by special order
TRPM Chip Seal Marker
Dimensions:
4.0″ Long
1.125″ Wide – Base
2.0″ High
TRPMs are self-adhesive markers for use on chip seal,
slurry seal or fog seal surface dressings to install on lane
or center lines.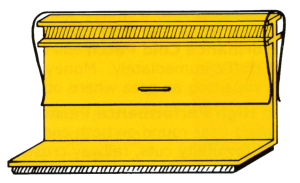 Permanent Pavement Markers
Permanent markers are an essential part of roadway delineation. These markers form a complete system for marking land lines, center and edge lines, turn pockets, curb dividers, stop bars and fire hydrants.
Permanent markers available in the following colors:
One-Way Yellow, One-Way White, Two-Way Yellow, Two-Way White, Two-Way Blue, Two-Way White/Red and Two-Way Yellow/Red.
Model 80/C80 Injection Molded Polymer

Model 88/C88 Plastic Faced Marker

Model 911 Glass Faced Marker

Model 101 LPCR Snowplowable Marker

Dimensions:

Dimensions:

Dimensions:

Dimensions:

4.55"Lx3.18"Wx0.66"H

4.0"Lx4.0"Wx0.70"H

4.0″Lx4.0″Wx0.70″H

10.0" Lx5.5"Wx1.76"H

Lens Area: 2.61″x2.61″

Lens Area: 3.25″x3.25″

Lens Area: 3.25 Square Inches

Lens Area: 1.9 Square Inches