Pedestrian Crosswalk Safety

Need to send a message at a pedestrian, school or bicycle crosswalk? Want to direct walkers in a shopping area? Want to send information to drivers in a high trafficked construction work zone? Have to create a delineation lane? Need to warn drivers and direct them around a dangerous curve?
Impact Recovery Systems® manufactures flexible, durable, high impact traffic control equipment for both permanent and temporary applications. These products are designed to give upon impact, then quickly return to their original position. The heart of our devices is our patented reactive spring system-making ours the only products on the market today that utilizes a mechanical device to increase product durability. Virtually every other flexible traffic control device relies on the memory of the plastic to provide its durability and performance. Use of the most durable sheeting on the market, as well as our quick release technology – that allows upright replacement in less than five seconds, stands us apart from the competition. These products are tested for safety and durability to a variety of industry standards and government regulations.
Ped-in-a-Bag
Pedestrian Signs
Omni-Ped
Pedestrian Signs 4-Sided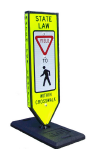 In-Street Pedestrian
Crosswalk Signs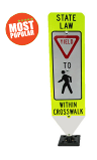 Applications
School Zone Parking Lots
Airport Drop-off & Pick-up Areas
Unsignalized Intersections
Special Events
Facilities
Low-Lit Pedestrian Areas
City Parks
Neighborhoods