Plasticade Products
From a means of communicating to a crowd to a means of controlling a crowd, hollow plastic sign stands that can be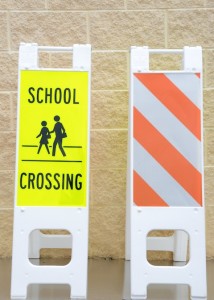 internally or externally ballasted serve a multitude of functions. Pictured here is an assortment of hollow plastic sign stands – each with its own unique applications.  In stock and custom legends, fabricated with 3M's brightest reflective sheeting, create eye catching messages.
The Minicade is perfect for School Xing and Narrow Advertising spaces.  The Squarecade 36 is ideal for House and Garage Sales.  Want a way to Channelize Traffic or Advertise Multiple Messages along narrow walkways – try the Narrowcade, perfect for places where space is limited.  Use the Squarecade for Windy Areas and the Signicade for a cost effective way of Advertising Events, Promotions, Sales or Help Wanted.
Each of these plastic sign stands has a hole with a plug for sand blasting. A free funnel is provided with every order to facilitate filling. Some of the units also have a sandbar bag at the bottom.  Molded-in handles allow for easy carrying and transporting. Stacking lugs assure no sliding or scratching of sign faces during transport. Sign faces are regressed to protect the reflective sheeting. Flashing warning lights can attach to all units. Most Plasticades have a patented locking hinge to keep the unit open.  Available plastic colors for most units are white, orange, bright yellow or warning yellow.
Save