Breakaway Post Systems (continued)
Ulti-Mate Square Post Sign Support System
Traffic Signs are the primary source of information for motorists.  The biggest and brightest sign is only effective if the support it is mounted on keeps the sign in its intended position.  Sign supports need to be strong, versatile and cost effective.  The Ulti-Mate sign support system, approved by the FHWA, is reliable, economical and easy to install.  The unique manufacturing method used to produce the Ulti-Mate tubing permits tubular sections of different sizes to telescope into the next larger size for convenient installations, maintenance and reuse.  The square shape also provides torsional stability. Click here for  available sizes and lengths.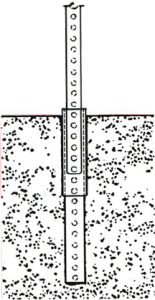 How the Ulti-Mate Breakaway System Works
Using power equipment or a sledgehammer with a driving cap, a 36″ or 30″ length of square post tubing is driven into the ground, leaving one or two holes above grade level, to serve as an anchor base.  The top sign post – 1/4″ smaller in diameter – is then inserted and bolted into the anchor assembly.  Upon impact, the post yields at the top of the anchor assembly, normally leaving it undamaged.  An optional 18″ sleeve – 1/2″ larger in diameter than the top post – is available to slide over the top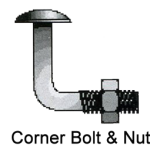 post/anchor sleeve assembly.  This sleeve is recommended for hi-impact areas.  A typical Ulti-Mate Sign Support Breakaway System might be composed of a 2″x2″x10'/12′ top post, a 2 1/4″x2 1/4″x30″/36″ base post, a 2 1/2″x2 1/2″x18″ sleeve and a corner bolt & nut.
Save