Preformed & Bagged Thermoplastic

An exciting and durable alternative to traditional traffic markings.
Studies have shown that properly applied thermoplastic can provide up to 8+ years of service life at 1/3 the life cycle cost of other marking binders. The material used, provide increased skid resistance when compared to standard thermoplastics. Our material is a highly durable, polymer-based marking that retro-reflectivity throughout the life of the marking. Meaning our product will provide maximum safety for its entire lifespan and won't need to be replaced due to failing safety features that makes this product so beneficial.
The preformed thermoplastic marking is heat-applied to both asphalt and concrete surfaces. This gives it a strong bond with surface materials that can easily withstand high heat, freezing temperatures, and daily use from motor vehicles including bicycles, semi-trucks, and passenger cars.  Call a Sales Representative at Garden State Highway Products to discuss your needs at 856-692-7572 or email sales@gshpinc.com.
Preformed Thermoplastic
Preformed thermoplastic is a durable pavement marking system where lane lines, legends and symbols are supplied pre-cut and can be easily installed As the material wears down, additional glass beads are exposed, thus ensuring exceptional retro-reflectivity during the life of the preformed thermoplastic pavement marking.
Available in 90 and 125 mil thicknesses
Ready to install out of the box
Standard colors: white, yellow, blue, black, red, green, purple, and orange
Custom color matching available
Lasts 8-10 times longer than standard traffic paint
Quickly & easily installed, no specialized equipment required
Legends & symbols come precut to MUTCD standards
Can be installed at lower temperatures, extending pavement marking season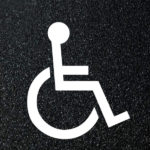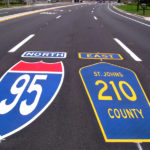 Bagged/Bulk Thermoplastic
Thermoplastic Alkyd is specified for municipal application that comes in 50 lb bags of granular material ready for melting. The thermoplastic is available in white or yellow.