BriteSide® Reflective Panels, Strips & Message Centers
Reflective Panels – The difference is easy to see. 
Reflective panels are available in various widths, lengths, and High Intensity Prismatic (HIP), Diamond Grade (DG), Fluorescent Yellow Green Diamond Grade (FYG), Fluorescent Yellow Diamond Grade (FY) or Fluorescent Orange Diamond Grade (FO) reflective colors, is riveted into or around a u-channel, square or round and wood style posts. This innovative post product is a natural complement to reflective traffic signs.
Note how sign visibility is enhanced via post visibility – the total unit stands out, sending its message loud and clear.

BriteSide® panels add special attention to signs.  Some applications include helping motorists identify rail, school, pedestrian and bicycle crossings sooner, and alerting people to hidden dangers, to dangerous construction zones and ramps, to handicapped resident areas and to the presence of children.  The beauty of this system is that it promotes safety with its endless applications because you can let your imagination make the product work for you.  Panels can also serve as mini message centers by silk screening and/or applying computer-cut legends with whatever message you desire.
When safety is an issue – particularly in high incidence areas – the need for highly visible signs is a necessity. With BriteSide Reflective Panels, visibility is increased dramatically, day or night, rain or shine, making the roads safer for motorists and pedestrians.
Features:
Round, square, existing and new U-Channel posts
Higher day/night visibility
Standard length of 6 feet
Satisfies MUTCD requirements
Vertical reflectivity leads eye to sign
Ships complete with mounting hardware
Theft-resistant fasteners
Mounts in seconds
Safe, no sharp edges
Non-corrosive
Available in 2 grades of 3M™ Reflective Sheeting 
> Download Reflective Sheeting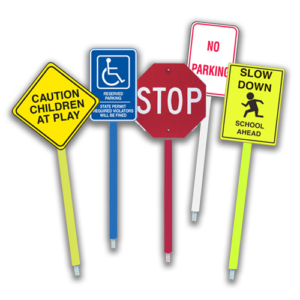 | Part Number | Description | Laminate |
| --- | --- | --- |
| BSX-272-HI-Color | 2" Wide x 72" Long Extruded PVC for Small U-Channel. Includes 5 Tamper Resistant 3/4" Square Head Screws. | Prismatic High Intensity |
| BSX-272-DG-Color | 2" Wide x 72" Long Extruded PVC for Small U-Channel. Includes 5 Tamper Resistant 3/4" Square Head Screws. | Diamond Grade3 |
| BSX-272-DG-FYG/FO/FY | 2" Wide x 72" Long Extruded PVC for Small U-Channel. Includes 5 Tamper Resistant 3/4" Square Head Screws. | Diamond Grade Fluorescent Y/G, Or, Yellow |
| | | |
| BSS-272-HI-Color | 1.75" and 2.00" Square Posts. Includes 10 Christmas Tree Push Pins. | Prismatic High Intensity |
| BSS-272-DG-Color | 1.75" and 2.00" Square Posts. Includes 10 Christmas Tree Push Pins. | Diamond Grade3 |
| BSS-272-DG-FYG/FO/FY | 1.75" and 2.00" Square Posts. Includes 10 Christmas Tree Push Pins. | Diamond Grade Fluorescent Y/G, Or, Yellow |
| | | |
| BSX-372-HI-Color | 3" Wide x 72" Long Extruded PVC for UChannel. Includes 5 Tamper Resistant 1" Square Head Screws. | Prismatic High Intensity |
| BSX-372-DG-Color | 3" Wide x 72" Long Extruded PVC for UChannel. Includes 5 Tamper Resistant 1" Square Head Screws. | Diamond Grade3 |
| BSX-372-DG-FYG/FO/FY | 3" Wide x 72" Long Extruded PVC for UChannel. Includes 5 Tamper Resistant 1" Square Head Screws. | Diamond Grade Fluorescent Y/G, Or, Yellow |
| | | |
| BSX-472-HI-Color | 4" Wide x 72" Long Extruded PVC for U-Channel. Includes 5 Tamper Resistant 1" Square Head Screws. | Prismatic High Intensity |
| BSX-472-DG-Color | 4" Wide x 72" Long Extruded PVC for U-Channel. Includes 5 Tamper Resistant 1" Square Head Screws. | Diamond Grade3 |
| BSX-472-DG-FYG/FO/FY | 4" Wide x 72" Long Extruded PVC for U-Channel. Includes 5 Tamper Resistant 1" Square Head Screws. | Diamond Grade Fluorescent Y/G, Or, Yellow |
| | | |
| BSD-472-HI-Color | 4" Wide x 72" Long Extruded PVC for Square (1.75" or 2") and Round (up to 2.3" o.d.) Posts. Includes 3 Mounting Brackets and 6 Tamper Resistant Square Head Screws. | Prismatic High Intensity |
| BSD-472-DG-Color | 4" Wide x 72" Long Extruded PVC for Square (1.75" or 2") and Round (up to 2.3" o.d.) Posts. Includes 3 Mounting Brackets and 6 Tamper Resistant Square Head Screws. | Diamond Grade3 |
| BSD-472-DG-FYG/FO/FY | 4" Wide x 72" Long Extruded PVC for Square (1.75" or 2") and Round (up to 2.3" o.d.) Posts. Includes 3 Mounting Brackets and 6 Tamper Resistant Square Head Screws. | Diamond Grade Fluorescent Y/G, Or, Yellow |
| | | |
| FMS-2.7572-Color | 2.75" Wide x 72" Long Pressure Sensitive (field mounted strip) | HI, DG3, DG Flour Y/G, Or, Yel |
| | | |
| BSF-2.7572-HI-Color | 2.75" Wide x 72" Long for Wood Posts. Includes 6 Tamper Resistant 1" Square Head Screws. | Prismatic High Intensity |
| BSF-2.7572-DG-Color | 2.75" Wide x 72" Long for Wood Posts. Includes 6 Tamper Resistant 1" Square Head Screws. | Diamond Grade3 |
| BSF-2.7572-DG-FYG/FO/FY | 2.75" Wide x 72" Long for Wood Posts. Includes 6 Tamper Resistant 1" Square Head Screws. | Diamond Grade Fluorescent Y/G, Or, Yellow |
| | | |
| BSF-1.7572-HI-Color | 1.75" Wide x 72" Long for Wood Posts or 2" Square Post. Includes 6 Tamper Resistant 1" Square Head Screws. | Prismatic High Intensity |
| BSF-1.7572-DG-Color | 1.75" Wide x 72" Long for Wood Posts or 2" Square Post. Includes 6 Tamper Resistant 1" Square Head Screws. | Diamond Grade3 |
| BSF-1.7572-DG-FYG/FO/FY | 1.75" Wide x 72" Long for Wood Posts or 2" Square Post. Includes 6 Tamper Resistant 1" Square Head Screws. | Diamond Grade Fluorescent Y/G, Or, Yellow |
| | | |
| BSR-18072-HI-Color | 2" Diameter x 72" Long Round PVC for U-Channel. Includes 5 Tamper Resistant 1 1/2" Square Head Screws. | Prismatic High Intensity |
| BSR-18072-DC-Color | 2" Diameter x 72" Long Round PVC for U-Channel. Includes 5 Tamper Resistant 1 1/2" Square Head Screws. | Diamond Grade3 |
| BSR-18072-DG-FYG/FO/FY | 2" Diameter x 72" Long Round PVC for U-Channel. Includes 5 Tamper Resistant 1 1/2" Square Head Screws. | Diamond Grade Fluorescent Y/G, Or, Yellow |