Blinkersigns®
Partnering with TAPCO to Illuminate Your Signs
A BlinkerSign® is a standard MUTCD sign, e.g., a STOP sign, or a Custom sign, that is fabricated to federally approved specifications concerning reflective sheeting and aluminum gauge. The sign is then fitted with Light Emitting Diodes (LEDs) that match the sign in color and in shape (as per section 2A.08 of the MUTCD). This match complements the sign and assists the driver in recognizing the shape and thus the message of the sign.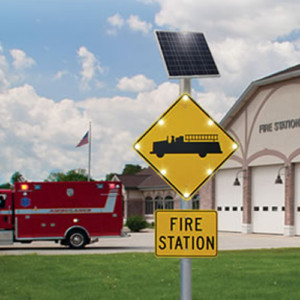 Pedestrian Crosswalk Warning Solutions
In some scenarios, mid-block crossings have shown to be very dangerous when not properly drawn out and made visible to drivers. Standard signage might not be entirely effective in new and high-use crossings, cluttered or visually challenging crossings, or crossings within higher speed higher traffic volume. In the past there have been few options, and enhancing the area with a signalized intersection is not an option.
Pedestrian BlinkerSign® Systems can be activated by unlimited options using solar power and wireless technology offering a low cost, low labor option for customers.
Intelligent Warning Signs
Wrong Way Driver Detection
Sharp Curve Guidance
Flooded Road Detection
Emergency Vehicle Warning
Bridge Clearance Detection
BlinkLink Web Based Traffic Device Monitor and Control