Driveable and Surface Mounted Delineators

A flexible delineator is perfect for areas where a delineator must be able to withstand numerous vehicle impacts at various speeds and then be able to return upright to its original position.  Surface mounted delineators are perfect for temporary applications such as construction work zones or for parking lots.  Epoxy to adhere surface mounted delineators is available.  Driveable flexible delineators are ideal for straightaways, on/off ramps, curves and general delineation.  Post drivers and pullers are available for all flexible delineators.  Various lengths and post colors are available.  See Page 23 for styles of reflective material to meet your specifications.  Please inquire as to stock items since non-stock delineators must be purchased in case quantities.
Surface Mount/Anchor Cap Installed Flexible Delineators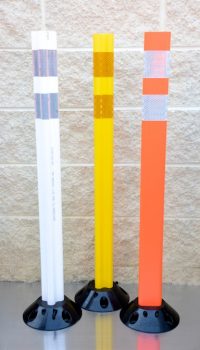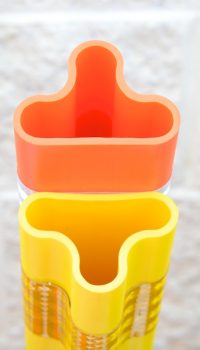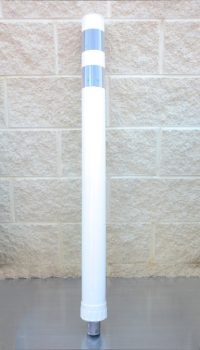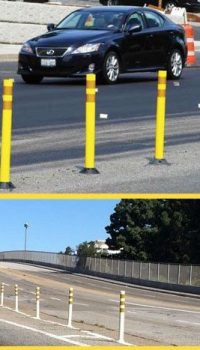 Driveable Flexible Delineators
 These drivable flexible guide posts for roadside delineation are made of recycled engineering polymers. Made to withstand repeated impacts. They will not discolor when exposed to UV rays and will not rust, rot or splinter. The offer strength, flexibility and durability to stand up in the harshest weather conditions. NTPEP tested. NCHRP 350 approved.
The FG 400 & 500 posts can be cut to any length; there are three standard colors: white, yellow and gray, other colors are available by special order.
The single curve profile of the FG 500 provides maximum display area for vertical messages that need to be visible from wide angles
The double curve FG 400 provides more rigidity to reduce flutters in the wind
Message decals that comply with US DOT specifications are available and can be applied at the factory
Reflective sheeting factory applied for better visibility