TraffiCalm SignAlert

The next evolution in road signage.
Applications: Stop Intersections • High Incident Intersections • Rural Roads • Dangerous Curves • High Accident Areas
---
SignAlert GEN 2 LED Enhancement System
The traffic industry has long recognized that many sign scenarios (placement, visibility, etc.) are more critically important than others. There has been a need in the industry for a simple and affordable way to retrofit existing signs with additional levels of warning for those situations that demand them – and to do this in such a way that the additional alert system can be motion activated to conserve power and extend the life of the LEDs.
LED rings field retrofit onto almost any existing sign
Very affordable
100 Level auto-dimming
Solar or AC power options
Configuration app works on nearly any Wi-Fi phone, tablet, or PC
High intensity LEDs visible day or night (visible up to 2 miles at night)
Hassle-free installation. (No dirt moved means less permits, and streamlined implementation)
LED flashers face mount on existing signs with permanent bonding tape and/or mechanical fasteners
Scheduling functionality expands system versatility and performance
Field replaceable batteries MUTCD Compliant
SignAlert Stop Sign Enhancement Ring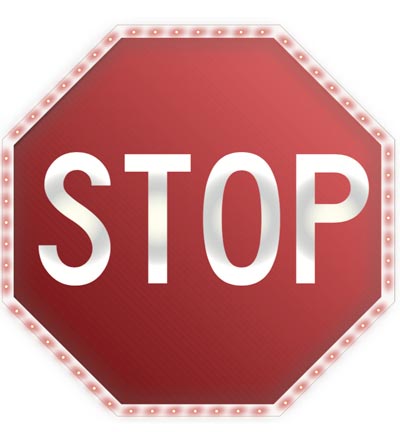 LEDs configured around perimeter of sign, within border (fully MUTCD
compliant design
LED pitch: 1.9"
Red LEDs with 30 degree viewing angle
DG3 white reflective sheeting applied to ring face for natural appearance
Integrates with all TraffiCalm SA300 controllers and collaborators and can be push button, speed (radar), time clock or sensor activated
Available sizes: 24", 30", 36" or 48"
Retrofits to any existing Stop sign manufactured to MUTCD requirements
Mounting: all LED hardware mounted within the white border of the sign. Mounted either with adhesive backing or included self tapping screws. Rivets may be utilized to improve tamper resistance
MUTCD compliant LED placement and usage
10 ft. single cable extension to reach controller or collaborator
Specifically engineered to enhance a single, standalone sign. Examples include speed zone reductions, advance warnings, and speed limit regulation.
Configuration of complex scenarios made easy in app
Fastest implementation with intuitive wireless technology
Individual units easily field upgraded or replaced
Schedulability to warn drivers at just the right times
Audible push button compatibility
Today's pinnacle of sign enhancement. Designed to wirelessly unify signs and sensors to provide unparalleled flexibility of application and use. Examples include sequential chevrons, conflict intersection warning, pedestrian activation, and road condition warnings.

All the benefits of the Basic System, plus:
Radio collaboration between signs and input sensors
Configuration of complex scenarios made easy in app
Fastest implementation with intuitive wireless technology
Individual units easily field upgraded or replaced
Schedulability to warn drivers at just the right times
Audible push button