TrafficJet Print System

Modernize your sign shop with this simple, clean, and cost-effective print system.
The TrafficJet™ 1638X printer is built on a proven printer platform and optimized with CMSpot6™ inks for all traffic control, wayfinding, and custom sign applications.
You get more with the TrafficJet™ Print System—ASTM and MUTCD specification compliance, industry-leading print speeds and sign warranties, and graffiti protection as a standard. Just what you'd expect from the leader in digital traffic sign printing.
Unrivaled Performance
Fast printing up to 162 ft2 per hour
Prints extraordinary details
15-year OmniCube™ traffic sign warranty
12-year High Intensity Prismatic traffic sign warranty
10-year custom color warranty using CMSpot6 Inks
 Built-in graffiti cleanability with OL1000 film
Improved Sign Features
Add multi-color logos for agency identification and branding
Sequential addressing and numbering
Fine detail allows agency name to protect against theft; fabrication date, and bar coding for improved sign maintenance
Improved Shop Efficiency
Precision, automated printing makes better use of your labor force
Save on capital costs by eliminating large and complex inventory of roll goods needed for sign cutting and screen printing
Shop Upgrades
TrafficJet Laminator for superior, bubble-free application
TrafficJet dryer for faster printing and lower ink consumption
TrafficJet Printer fume extractor for less ventilated shops
Summa F1612 flatbed for quick and easy contour cutting
CWT® Worktools table for easy layout and application
Complete Print System
Traffic sign production process designed and supported by Avery Dennison technical personnel
Professional on-site installation and training
Custom FlexiSIGN and PRINT Avery Dennison Edition sign making and production software
Optional subscription to SignCentral™ MUTCD Sign and Font Library from TAPCO®
Access to online support videos and guides
Exclusive access to the Certified Digital Traffic Converter (CDTC) program for quality control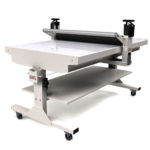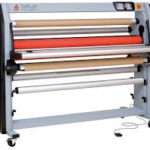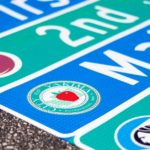 Specifications
Print method: Drop-on demand, piezo drive method
Number of nozzles: (180 × 8 rows) × 2 staggered heads
Ink Type: TrafficJet™ Eco-Solvent spot colors and Mutoh Eco-Ultra ink (CMYK)
Variable Dot: Yes
Media auto cut: Standard
Print Modes: 1440/720/540/360dpi 10 + modes
Color Configuration CMSpot6
Number of Print Heads: 2
Maximum Print Speed / Resolution: 1,012 ft2/hr
Maximum Resolution: 1440 dpi
Traffic Sign Print Speed: Up to 87.5 ft2/hr standard
Up to 162 ft2/hr with dryer
Head Height: Low 1.5mm / Medium 2.5mm / High 4.0mm
Maximum Media Width: 64"
Maximum Print Width: 63.6"
Maximum Media Roll Weight: 66 lbs.
Media Roll Diameter / core: 6" maximum / cores 3" or 2"
Take-up System: Standard
Minimum Droplet Size: 3.5pL Software FlexiSIGN and PRINT Avery Dennison Edition
Power Requirements: 100–120V / 20A
Operating Temperature: 68°F–89.6°F
Operating Humidity Range: 40%–60%
Dimensions: 106"W×35"D×50"H
Weight: 407 lbs. / Stand: 75 lbs.
Weight: 728 lbs.
Limited Warranty: 1 year