Weather Warning

Weather conditions can change in an instant. Warn motorists of poor driving conditions.
Don't leave safety to chance. Send immediate notification with TAPCO solar-powered LED-enhanced BlinkerSign® Weather Warning Systems.
Independent of the power grid, BlinkerSign® Weather Warning Systems can be triggered the second driving conditions become dangerous.
Icy Road BlinkerSign® Solar Powered Sign
BlinkerSign® solar powered signs provide drivers a real-time warning of icy roads ahead so they can slow down and take caution. Linked to the Surface Sentinel, the LEDs flash ONLY when road conditions are icy providing a dynamic, more effective warning than 24/7 flashing. The sensor is a compact and rugged sensor that provides surface temperature, air temperature, relative humidity and dew point from a fixed tower or pole.
Features
Triggers ITS Devices Directly from Sensor
Low Cost, Low Power, Durable & Accurate
Calculates Multiple Climate Factors
3 Year Warranty
High Water Warning System BlinkerSign® LED solar traffic signs
BlinkerSigns provide notification and awareness of closed roads, evacuation routes or dangerous driving conditions. The advanced warning allows drivers to turn around and take alternate routes preventing backups. Each MUTCD compliant BlinkerSign® is built to weather harsh conditions and emergency scenarios.
Features
Can Detect Rising Water Levels then Triggers LEDs Alerting Drivers
Can Be Deployed or Taken Down in Minutes (Folding Models are Available)
Can Be Activated at the Site, or Remotely Through a Key Fob or Central PC
Available with BlinkerSign®, Dual or Single BlinkerBeacon™
Off-Grid Solar System Ideal for Post-Storm Electrical Outages
Visible Day/Night, in Inclement Weather
Visible for Up to Two Miles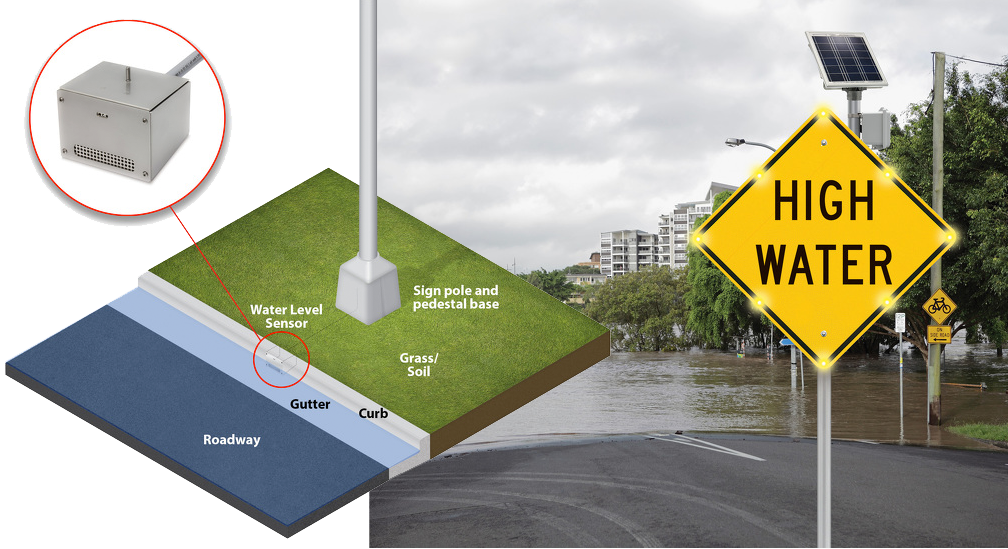 Also Available
Evacuation • Snow Zone • Fog Warning